Home
➔ ID Card Designing Software
ID Card Designing Software
Order Online Section
Single PC License (Using Avangate)

Advance Licensing Options (Using Avangate)

| | | |
| --- | --- | --- |
| 2 PC License | $65 | |
| 5 PC License | $142 | |
| 10 PC License | $228 | |

Download Section
Price: Just $49
Software useful to design different type of ID cards in customized format as required. The best features of the Card maker software can be perfectly used to design great looking Identity cards with use of various graphic designing tools in simplified way.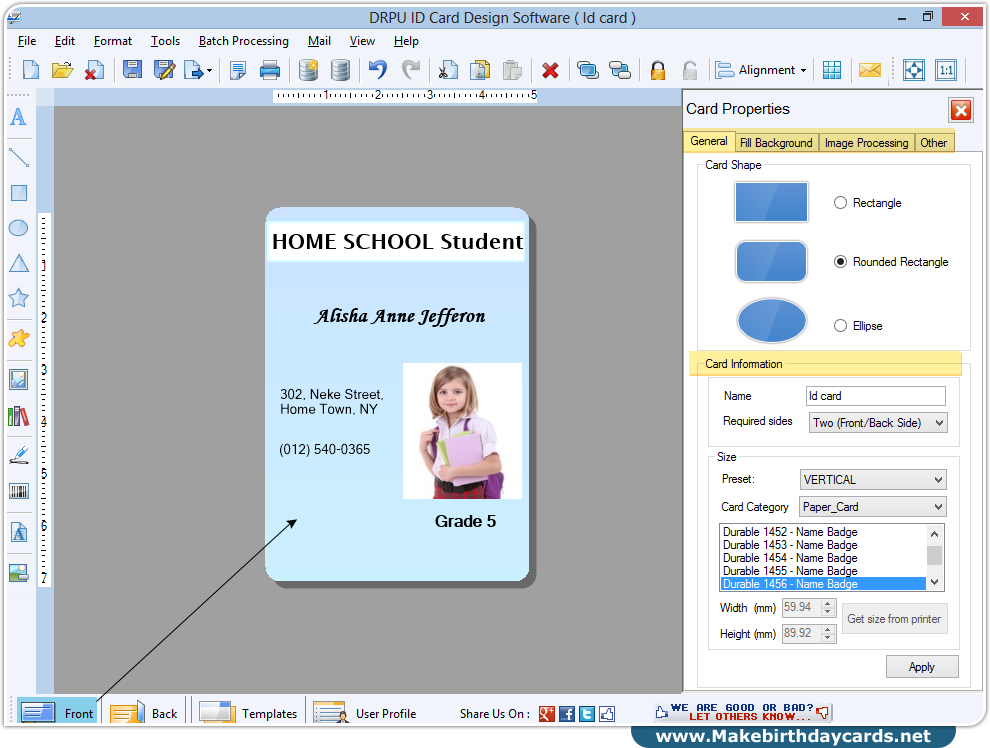 Card maker software can be used to design and create Student ID card, Employee ID card, Employee id badges, Faculty ID card and other similar type of Identity cards.
Now no need to take expert advice as simple and easy to use ID card maker program generates desired ID cards with option to include Photo, Text, Icon and other similar image designing objects for best quality Identity card creation process.

Software features-
↺ Design and create ID cards using image designing tools including Line, Ellipse, Pencil, Rectangle, Text, Barcode, Picture, Arc, Triangle and Star objects.
↺ Add WordArt text-styling feature to the ID card.
↺ Start new ID card format or edit existing ID card format.
↺ Create folded ID cards including Quarter Fold, Half Fold and more.
↺ Create ID card using wizard or with blank format.
↺ Design and create ID card in Rectangle, Rounded Rectangle, Ellipse or other similar shape.
↺ Data Set Series feature allows to generate the multiple copies of ID cards with different barcode and text value.
↺ Include message using message templates during ID card designing process.
↺ Specify the color and background settings of ID card including Solid Color, Gradient, Image and Style settings.
↺ Select image from library during ID card designing process.
↺ Option to print created ID cards using advance print settings.